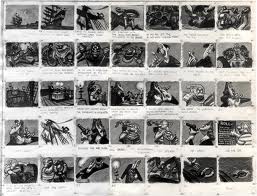 Storyboarding is the starting point for the creation of an animated movie.
Starting Process
Edit
The story begins as small "cartoon" or "comic" like bits and are put together and displayed on a large, wall sized board. The person who helped or developed the idea then "acts" out the many scenes on the large wall.
Ad blocker interference detected!
Wikia is a free-to-use site that makes money from advertising. We have a modified experience for viewers using ad blockers

Wikia is not accessible if you've made further modifications. Remove the custom ad blocker rule(s) and the page will load as expected.